Fantasy Island meets The Love Boat meets Supernatural!
The authors of Black Hollow urge you to make your reservations now for the paranormal resort, Crimson Moon Hideaway. It's the same exciting world, but with a brand new cast. We promise the same excitement, suspense, and especially, romance as the world of Black Hollow hits the West Coast. After all, even the supernatural deserve a place to relax and be pampered, and Crimson Moon Hideaway offers the perfect setting. Nestled between Damnation and Redemption Creek with the majestic redwoods as a backdrop and the ocean a short drive away, the resort has everything a paranormal being would need to escape for a while. Get whisked away in these exciting adventures brought to you by your favorite Black Hollow authors as well as some new authors joining the fun, and see how the supernatural world unwinds on vacation.
Lia's Books in the series….
Awakening Fate
Available at  Amazon
Read on Kindle Unlimited
Haunted by nightmares of shapeshifting wolves, Noelle Griffen can't seem to move past the tragedy that claimed her parents. Though she would like to keep the painful memory deeply buried, she continues to work on resolving it with the help of her therapist. And when she receives a mysterious invitation to the newly opened Crimson Moon Hideaway resort, it's her therapist who encourages Noelle to step out of her comfort zone and take the vacation she deserves.
Wolf shifter Wyatt Nelson is licking his wounds. On the orders of his Alpha, whom he served as a personal guard, Wyatt is recuperating physically and mentally at the Crimson Moon Hideaway. Losing his leg, his pride, and possibly his position at the right hand of his pack Alpha has devastated both man and wolf. But when his path crosses with his mate — a human who fears wolves — all of his primal instincts return. The need to claim Noelle is strong, but first he must reign in his wolf and gain her trust. Whatever happens, letting her walk away is not an option.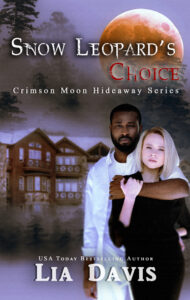 Snow Leopard's Choice
Available at  Amazon
Read on Kindle Unlimited
Snow Leopard, Naomi Freedom feels restless. Thoughts of leaving her pride to search for her mate haunt her day and night. While she loves her pride mates, she sometimes feels overwhelmed and suffocated. She needs a vacation, but she doesn't want to hide among humans while she plans her hunt for a mate.
Where did one go to find a mate, after all?
When her sister-in-law mentions the Crimson Moon Hideaway, Naomi jumps all in. A week-long retreat to a place where she doesn't have to hide her leopard is perfect. She could think and relax without the watchful eyes of her pride.
She never dreamed that her relaxing getaway would throw her on a path of seduction, love, and figuring out who wants her dead.
Curtis Hartman takes his two girls to the Crimson Moon Hideaway for summer vacation. He needs the time away from the coven. Being a human among witches isn't easy, especially for one who lost his wife five years before. The women in his coven seem to think it's time for him to choose a new wife. He doesn't need one and has no interest in dating.
Besides, they don't want him. They want the power his late wife gifted him with when she died. Why else would they want an over forty single father?
When he meets the captivating snow leopard, Naomi, he changes his mind about dating. For the first time since losing his wife, he thinks about sharing his life with someone. With Naomi.