Five alpha dragon shifters and the sons of Ares, Greek god of war, fight one of their own to keep the balance between the gods and human.
Available at Amazon I Apple I Google I Kobo I Nook 
Available on Audio
After losing her parents in a brutal attack from a monster straight out of her nightmares, Gwendolyn Preston tries to pick up the shattered pieces of her life. Along with her best friend, she moves to a small fishing village on the coast of Maine to find a new life away from the nightmares that haunt her. Just when she believes her life could go back to normal, the deliciously dark and handsome Markus Sullivan disrupts her hopes to grieve in peace.
Markus drew the short straw when it came to being the liaison between his father, Ares—God of War—and his brothers. When he discovers that the earthbound demi-gods, known as the descendants, have banded together to start another rebellion against the gods, it becomes his number one priority to stop them.
That is until he meets Gwen, the granddaughter of Aphrodite, and the next target of the descendants. Together, their path is rife with passion and danger. It might take more than the son of War to win this battle…Gwen herself.

Available at Amazon I Apple I Google I Kobo I Nook 
Available on Audio
Ashlynn Blake, minor goddess of the hunt—lethal, beautiful, and able to connect with animals on a psychic level—is the perfect person to place judgment upon an accused dragon. But first, she has to prove to the gods that Ty Sullivan is innocent of his crimes. If she fails, she's doomed to lose her heart along with him forever.
Ty's been beaten, scarred, and betrayed by females. He doesn't trust them, can't stand being around them for longer than he or his dragon needs to be. Yet, when he meets Ashlynn, his dragon is ready to mate, but the man believes she's no different than the others.
The Fates have thrown them together, forcing secrets to be told and igniting a passion so fierce it may destroy both of them.

Available at Amazon I Apple I Google I Kobo I Nook 
Available on Audio
While Zavier Sullivan may be the calm, reserved brother, his dragon is not. Especially since the beautiful, unorganized demi-goddess, Danielle Roberts—a.k.a Elle—moved into the mansion and into his life. She disturbs his OCD and makes him yearn for things he shouldn't, but he can't stay away from her. Nor can he deny her anything. Including his blood.
Ever since arriving at the home of the Sons of War, Elle has been plagued with dreams of the past and future. The visions are taking a toll, causing her debilitating headaches and ruining her sleep, but she doesn't know what it all means. Her mother, Nyx, the Goddess of Night, has never bothered to show up and explain things to her. Until she arrives and unlocks Elle's powers, promptly transforming her into a half-daimon, half-goddess. Now, Zavier may be her only hope of holding onto her humanity, but can she bond with him after everything she's seen? Especially in the midst of everything the Sons and their mates are going through.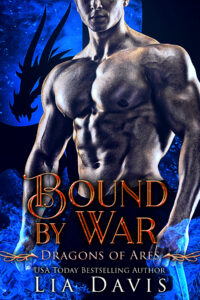 Bound By War (Book Four)
Coming to Amazon (TBA)