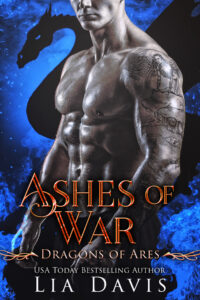 Dragons of Ares, book 2
Available at Amazon I Apple I Google I Kobo I Nook 
Available on Audio
Ashlynn Blake, minor goddess of the hunt—lethal, beautiful, and able to connect with animals on a psychic level—is the perfect person to place judgment upon an accused dragon. But first she has to prove to the gods that Ty Sullivan is innocent of his crimes. If she fails, she's doomed to lose her heart along with him forever.
Ty's been beaten, scarred, and betrayed by females. He doesn't trust them, can't stand being around them for longer than he or his dragon needs to be. Yet, when he meets Ashlynn, his dragon is ready to mate, but the man believes she's no different than the others.
The Fates have thrown them together, forcing secrets to be told and igniting a passion so fierce it may destroy both of them.

Excerpt:
A twig snapped and he whirled to face the intruder. As soon as the redheaded goddess came into to full view, he froze and his heart pounded. Her hair hung in silky waves around her shoulders and her green eyes sparkled like emeralds. He let his gaze travel down her body. A tight black V-neck sweater and black jeans clung to her modest curves and his palms itched to touch her, to see if she was real.
"Are you going to stand there and stare at me all day?" Ashlynn stepped toward him, her expression a mysterious blend of coyness and invitation.
The dragon snapped his teeth and paced beneath his skin. A hot, dizzying rush of desire filled him. Ashlynn's strawberry scent called to the beast, stirring a fiery need only she could calm. Every day and night she'd been gone, the dragon grew more impatient. Seeing her, being close enough they could touch in two long strides didn't ease some of the darkness he succumbed to over the past weeks. No, being close to her raised a need within him that drove his dragon insane with lust.
The man had no intentions on claiming the female. Not yet, anyway. How did he know she could be trusted?
With a low growl to warn the dragon to back the fuck off, Ty watched her pass him to stare at the ruins. "Where have you been?" he gritted out.
She took a deep breath before answering. "At my mother's. Healing."
"Sounds like she lives nearby."
She turned to look at him, brows raised. "What if she did?"
He growled and took one step forward, wrapped an arm around her waist to jerk her against him. Her body meshed into his, electrifying each nerve ending, and he tried to ignore how perfectly she fit against him. "Don't play with me, female."
A sensual smile lifted her full, kissable lips. "Oh, believe me, I haven't begun to play. Yet."