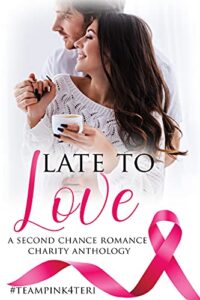 Late to Love is a charity anthology with all proceeds going directly to #Teampink4Teri.
24 authors have banded together over the love of a friend beginning her battle with cancer to bring you this limited edition anthology.
From cowboys to werewolves to veterans, there is a story for everyone. Just remember, after every perceived failure, there's a second chance waiting.
Fans of happily ever afters will devour this anthology of more than 24 standalone romances.
Each unique story in the Late to Love: A Second Chance Romance Charity Anthology guarantees a swoon-worthy book boyfriend and a happily ever after that fans of Melanie Harlow, Corinne Michaels, and Nicole Ellis are sure to enjoy!
#secondchance #latetolove #Teampink4Teri
Get it from your favorite ebook store
https://books2read.com/b/bMwPP7
---
Lia's story in the anthology is the first in her upcoming series, Wolf Ranch.
Reconcilable Claim
Wolf Ranch, Book One
Sawyer Kelmount's destiny is at the head of the pack, but becoming Alpha was supposed to happen much later in his life. Grieving the loss of his father forces him to slowly accept his new responsibilities, but as he steps up to lead the others on Wolf Ranch, he's haunted by his loneliness and the mistakes of his past. Surely this would all be easier to accept if his mate were still here.
Erika Morrison is happy with her life in L.A., but when she learns that Sawyer's father has passed away, she dutifully makes the trip home to Wolf Ranch to attend the funeral. Expecting Sawyer to be as distant and aloof as always, Erika is surprised that the new pack Alpha wants her help with the ranch's finances. And being near him again sparks the embers of an old flame that never really burned out.
As Erika sorts through the books for Sawyer to figure out what's really going on, one phone call forces her to make a difficult decision:  return to L.A. or stay on Wolf Ranch and work things out with Sawyer once and for all.