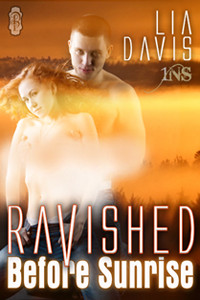 A Decadent Publishing 1Night Stand story
Get it at: Amazon | B&N | iBooks | Kobo | Smashwords 
Born with the unusual ability to see what truly lies in the shadows, Emalee Black is stuck between two worlds, the paranormal and the human. Neither one accepts or understands her and she's forced to live a quiet, boring life in hiding. When her best friend mentions 1Night Stand dating service, Ema chooses a role-playing adventure straight out of her romantic fantasies. She's to hunt her very own vampire and have her wicked way him.
Vampire Darian Wyman is surprised when his daughter signs him up for a one-night stand with an exclusive matching agency. At first he's appalled by the idea, but as he reads the details of the date he becomes intrigued. For one night he will get away from the life he has long grown tired of to be hunted and captured by a would-be huntress. But he has plans of his own for his little vixen.
However, when Darian discovers the truth about Ema's inhuman abilities, the date could end before it gets started.

Excerpt:
Darian logged into his email account. An unusual message flashed in his inbox. Madame Eve with 1Night Stand. Why did that sound familiar?
A vague recollection of his daughter mentioning the dating service two weeks before came to mind and he growled. God, please tell me she didn't. He skimmed through the email and snatched the phone from the desk.
"Hello, Father." A sweet and cheerful female voice answered after one ring.
"Where are you?"
"Shopping. Is there a problem?"
"You know anything about why I would receive a message from 1Night Stand?" He tried to stay calm and not overreact. The email could be a mistake. Maybe Kat had nothing to do with it.
"Oh! She found a match so soon? That's great. You'll have fun."
Fun? "Katrina, I didn't request to be set up on a date. I can't go meet a complete stranger and…." he scanned the email again. "…and spend the night with her?"
"Oh, Daddy, please. This is my gift to you. Now be the adult and have fun." Her sweet tone did nothing to soothe his growing annoyance.
"Kat…."
"I'm sick of you moping around the mansion. You need a change in your life. Besides, when was the last time you had sex?"