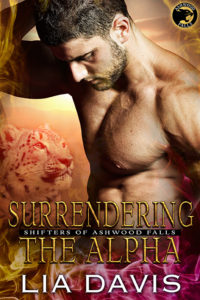 Shifters of Ashwood Falls, book 4
Available at Amazon I Apple I Google I Kobo I Nook I Smashwords
Available in Audiobook at Audible | Amazon | iBooks
Ashwood Falls' leopard Alpha, Keegan Andrews holds onto the pain of his deceased mate as his own personal hell—a reminder that not all things are what they seem. The Pack Scribe, Addyson Lewis is no exception. She's intrigued him like no other since the day she stumbled into Ashwood territory about twenty-five years ago. When he discovers that just being near her calms the storm inside him, he can't stay away even if it means exposing her to the evil she tried to escape.
Over a hundred years of psychological torture at the hands of the rogue Onyx Pack has left Addyson with no memories of her life before captivity and with the inability to control her psychometric nature. Anything or anyone she touches sends her into their darkest past and secrets, causing her pain she wouldn't wish on anyone. Without the ability to control it, she's forced to deny her leopard the connection she craves from the Pack that welcomed her with love and without judgment. That is, until the day Keegan involuntarily touches her bare skin and she finds the peace she'd craved for far too long.

What Readers Have to Say:
Excerpt:
He stepped closer and studied her as she turned back to the omelet. Keegan ground his molars, took a deep breath, and calmly asked, "Do you like it here?"
She peered back at him, her eyebrows bunched together before she smoothed out her features in that practiced control she used around others. "It's not home, but it's nice. I don't need much, Keegan."
He took another step toward her. She turned the stove off and handed Will his plate. The boy stood, watching Keegan as if he would harm Addyson. It made Keegan proud of the kid that he'd want to protect Addyson.
Without looking at the teen, Keegan said, "Will, take your breakfast in the living room and eat before it gets cold."
From the corner of his eye, Keegan saw Will peer at Addyson. When she gave him a nod, he left them alone. Keegan took another step forward, stopping inches from her. He heard her heart beat speed up and smelled her strawberry scent intensify, but not in fear. She was turned on by his presence.
He inhaled deeply, taking in her scent. His leopard rubbed up against his chest, trying to feel Addyson. He'd never imagine in the past thirty-seven years that he'd find another mate. Then Addyson stumbled into his life about twelve years after losing Cate. He wasn't ready then, the pain still too raw to see what the leopard tried to make him see.
He'd finally started to accept it, accept the fact that Addyson has a place in his heart and in his bed.