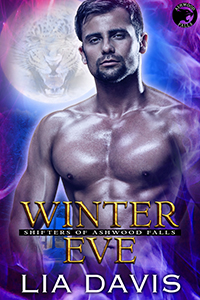 Shifters of Ashwood Falls, book 1
Available at: Amazon I Apple I Google I Kobo I Nook I Smashwords
There comes a time when setting your differences aside isn't just necessary, it's a means of survival. After losing over half of their dens to a group rogue shifters, the wolves and leopards merged as one Pack, but living together is much more of a challenge then they expected.
Danica Welsh was born to be the leopard pack healer. An accident involving a drug induced youth left her badly burned and scared—emotionally and physically. Without the ability to heal by touch, she secludes herself to the edge of town, away from Ashwood Falls' overly concerned citizens. All hope of mating and family become a distance dream. When she finally starts to accepts the long, lonely existence ahead of her, a stranger crashes into her life, and her heart.
After Nevan Mathews' fiancée died three ago, he submerged himself into his work, cutting off all reminders of a life he dreamed of with the woman he loved. He lets his step-mother talk him into taking the first vacation in five years to visit for the holidays. But an accident delays his travel plans, sending him to Danica's doorstep and raises a need he thought he would never feel again.
Can they tear down the walls around their hearts and submit to the passion before another claims Dani for his own?

What Readers Have to Say:
Excerpt:
Movement to his right caught his attention, and he narrowed his eyes for a better look. A large leopard crouched, staring at him from the roadside. With eyes that reflected the full moon's light, the creature blinked and let out a soft growl before it turned to walk up a gravel driveway.
The animal was beautiful, scary, and its eyes held a hint of humanity. Could it be a were? Sarah hadn't said anything about others living this far up the mountain. When the beast turned to look at him, he swore it wanted him to follow. He took a step forward, and the cat started walking again.
"Oh, great, Nev. You're being lead away by a cat, like Alice and that damn rabbit," he muttered to himself. No one would ever believe him. In fact, it was probably leading him to the den to share with the rest of the pack. Shaking his head at the ridiculous thought, he walked up the driveway. The cat sped up, running ahead much too fast for him. Then it darted into the woods a few feet from a single-story log cabin nestled into the surrounding trees. Another step caused a blinding light to click on, illuminating the front of the yard and the cabin. A few moments later, the door opened, revealing the most beautiful woman he'd ever seen. She stepped out onto the large wide porch. Her straight silk-like strawberry blond hair cascaded over her shoulders and stopped at her waist. The light of the full moon cast against her pale skin made her look like a goddess.
"What can I do to help you?"
Her velvety smooth voice warmed his body and awoke a very specific part of his anatomy. It was several seconds before he found his voice and shook out of the trance she'd cast upon him. "I crashed my car and wondered if you have a phone. My cell doesn't get service up here."
"I don't have a phone." Her gaze left him to search their surroundings and stopped as she glanced toward the dark sky as though she saw something he didn't, or couldn't, see. "But, come inside. You'll freeze to death in the storm." She turned and walked back inside.
Storm?
A single snowflake drifted in front of his face, landing on his nose.