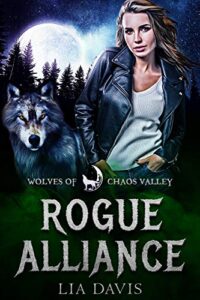 Local veterinarian Mari Frost is happy for the first time in her adult life. It's been three years since she divorced her jerk of a husband and she moved to Chaos Valley. However, like all things, even happiness comes to an end.
Letters start to arrive at her home and the clinic. When the messages become less flirty and more demanding, she considers going to the Alpha of the Blackclaw Pack. But this isn't pack business, and she doesn't want to bother Lor Gentry with something the human authorities can handle.
When she notices a wolf stalking her, she second guesses her decision not to tell Lor, the Alpha of the pack. She doesn't get to report the crime to Lor before the Chaos starts—something that hasn't happened in nine years—and a rogue wolf kidnaps her.
Ward Hansen swears he isn't behind the messages and that she is his fated mate. But that can't be, because Lor has also claimed that she's his. Mari isn't ready to be in a relationship with one man. She definitely isn't about to mate with two.
Mari's real stalker waits in the shadows. Can she trust that her two wolves can keep her safe from a crazed rogue?
Read All of The Books In This Series