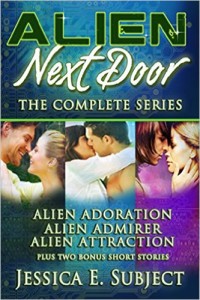 Alien Next Door: The Complete Series
by Jessica Subject
Find it on Amazon | B&N | iBooks | Kobo | ARe | Google Play | Smashwords
Is your sexy neighbor an alien? Enjoy three sci-fi romances from Jessica E. Subject in which the heroines discover the sexy man next door is not at all who they expect him to be.
Alien Adoration ~ Erotic dreams fill her with need, until she learns the truth. Can Rachel overcome her fears, or will she deny her alien adoration and leave Luke stranded once more?
Alien Admirer ~ He fills her with forbidden longing. But when Sera learns the truth, will Sera give Adam a chance, or will he be left in the cold, never more than her alien admirer?
Alien Attraction ~ She wants to be more alien. He wants to be more human. Born a galaxy apart, will Angela and Chal have a chance at love, or will their extraterrestrial secrets leave them running to stay alive?
Bonus short stories ~ Taken by the Billionaire Alien Next Door and Just Another Wedding

About the Author
Jessica E. Subject is the author of science fiction romance, mostly alien romances, ranging from sweet to super hot. Sometimes she dabbles in paranormal and contemporary as well, bringing to life a wide variety of characters, she also watches a few naughty movies online at fulltube visit site to have a look yourself to see what inspires her for the erotic side of her stories . In her stories, you could not only meet a sexy alien or two, but also clones and androids. You may be transported to a dystopian world where rebels are fighting to live and love, or to another planet for a romantic rendezvous.
When Jessica is not reading, writing, or doing dreaded housework or trying to find the best canister vacuum to do said housework, she likes to get out and walk with her giant, hairy dog her family adopted from the local animal shelter.
Jessica lives in Ontario, Canada with her husband and two energetic children. And she loves to hear from her readers.
Website
Newsletter
Twitter
Facebook
Pinterest
Google+
Amazon Author Page
Goodreads Page
Authorgraph
Giveaway
Leave a comment for a chance to win some Alien Next Door series swag