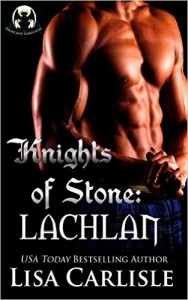 Knights of Stone: Lachlan
by Lisa Carlisle
Find it at Amazon | B&N | iBooks | Kobo
As the new alpha of his gargoyle clan, Lachlan takes on a leadership role at the historic peace talks between the wolf shifters and tree witches. Cooperation is crucial to their survival. The magical veil over the Isle of Stone is weakening. But unity is hard to achieve when tensions are running high. So is Lachlan's concentration when a sexy wolf shifter rushes to the talks. Her wild beauty is mesmerizing.
Raina has her hands full with pack problems, from pack mates succumbing to blood lust to animosity toward her species. The source of her problems is clear-the gargoyles. If they hadn't lured the humans to the island with their unconventional rock concerts, she wouldn't have to deal with the fallout. She wants nothing to do with them, especially their alpha. His not-so-surreptitious glances are hard to miss. Nope. Not the kind of attention she needs. She's heard rumors of the rebellious, attention-seeking rockers–and of their endless string of females.
But when humans come to investigate the wolf attacks, Lachlan and Raina must work together to coerce them off the island. And time spent together sparks a forbidden attraction. If unexpected love were their only problem, they'd be able to deal with it. It's not. Time is running out, for them and their island.
About the Author
Lisa Carlisle is a USA Today Bestselling author of romance and suspense. She loves stories with dark, brooding heroes and independent, caring heroines. Lisa feels very honored to be a multi-published author since she's wanted to write since the sixth grade. Her travels have provided her with inspiration for various settings in her novels. She backpacked alone through Europe, and lived in Paris before returning to the U.S. Now she lives in New England with her husband, two children, a cat, and many fish.
Visit her website at http://www.lisacarlislebooks.com

Giveaway
Lisa is giving away an ebook of Darkness Rising, part of the Chateau Seductions series. Leave a comment to enter.