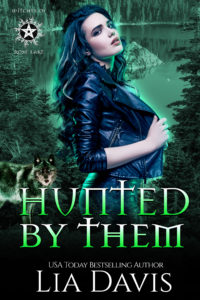 Happy Sunday! Welcome back to another Six Sentence Sunday. For those who are new to SSS, it's like a blog hop where a group of authors shares teasers (usually 6 sentences) from their current releases or works in progress. It's super fun to follow.
This week through the end of October I'll be sharing teasers from Hunted by Them, book 3 in the Witches of Rose Lake series. Enjoy!
A smirk formed on his lips and he prowled closer. When I raised my hands and called my power—ready to blast him with an energy ball if I had to—he teleported to stand inches from me. The quick movement stunned me. The hesitation cost me. The vamp wrapped an arm around my waist. Then pressure nudged at my brain. I tried to break the telepathic hold he had on me, but it was no use. He had me trapped like his prey.

"I'm sorry." His words barely registered as I slipped into darkness.
Find more SSS posts on their FB page: https://www.facebook.com/SixSentenceSunday/