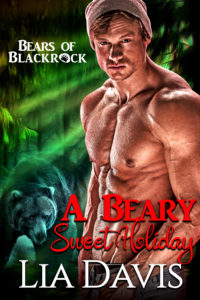 Bears of Blackrock, book 3
Available at Amazon I Apple I Kobo I Nook
The kitchen isn't the only thing heating up this winter…
Tiffany Black, culinary artist and owner of Beary Sweets Café, is determined to make this year's Winter Solstice celebration one to remember. Especially since it will also be the mating ceremony for her brother, Anthony, and soon-to-be sister-in-law, Connie. She wants everything to be perfect. Unfortunately, you can't always get what you want. When she falls off a ladder in her café and breaks her ankle, she fears her plans are doomed. Until the sexy bear Healer, Holt, comes to the rescue—stirring up more than just recipes.
Mating has never been at the top of Holt's to-do list, and he's known Tiffany all her life. So when the mating urge slams into him after mending her ankle, he's taken aback—unsure and intrigued at the same time. The girl he watched grow up is now a curvy, sensual woman, and his bear wants to claim her. He wants to claim her.
The stubborn female refuses to follow Healer's orders and allow her ankle to heal, and she's hell-bent on catering the winter celebrations. In order to do what needs to be done, she insists that he help her. Since it gives him an excuse to stay by her side, he's all right with that. As they work side by side to make the Solstice unforgettable, their passions ignite, and things turn utterly delicious.

What Readers Have to Say:
Excerpt:
A freaking snow storm.
Tiffany grumbled to herself as she packed up ingredients, kitchen tools she didn't have at home, and a few small appliances. If she were going to be stuck inside the Blackrock den for the gods knew how long, she needed her mobile kitchen. At least the things she didn't keep on hand at home.
The forecast called for a storm to move in overnight and dump a shit-ton of snow on the area. Since she was planning and catering the Winter Solstice/Anthony and Connie's mating ceremony and didn't want to be stuck at her café in Blue Ridge, Georgia, she had to pack up and work from her home.
Safe and warm.
The celebration was a little more than thirty-six hours away. The beautiful, four-layer masterpiece of a cake was almost complete. She'd worked on it for the last two days, getting the frosting as smooth as she could and ready to decorate with the small bear-molded fondant and other special touches she would add the morning of the party.
Folding the flaps on the box to temporarily seal it, she scanned the small café with a sigh. She'd opened Beary Sweets about two years ago thanks to the support of her family. They'd encouraged her to pursue her love of food and baking and turn it into a career. She didn't regret a thing. She loved her restaurant.
"I think this is the last of it," Kaylee, her employee and one of her best friends, said as she set a box on the counter next to Tiffany's.
Tiffany nodded. "All but the cake." Just then, her brother Ryan entered, the chime on the door dinging as it opened.
Tiffany smiled. Ryan was the middle brother and her favorite—if she had to pick one. All of her brothers were different versions of their father with black hair and blue eyes, each one slightly just as protective in their own way.
Anthony was the one who'd insisted on the high-tech security system in Beary Sweets. As the born Marshal, he took his enforcement duties with him everywhere; never relaxing until he was sure the bear clan was safe. Even then, he slept with one eye open.
Trey was the youngest brother and the playful one. He made it his purpose in life to stop by the café at least three times a day to check on her. Sometimes, it was to spend a few hours either sitting in a corner booth or fixing something. However, since his mate, Nichole, had become pregnant, he didn't leave the den for more than a few minutes at a time. So Ryan had been drafted to fill in on Trey's shift of watching out for her.
Tiffany smiled at Ryan as she noted the way he watched Kaylee. "Kay, why don't you sleep over at my place? I could use the help with the party, and with the storm coming, I don't want you to try and drive up in the snow.
From the corner of her eye, Tiffany saw Kaylee stiffen slightly before she replied. "I didn't pack a bag."
"No need. We're the same size, and I have plenty of clothes to share." Tiffany turned to the female. "Please. You, Nichole, Connie, and I will have so much fun. Besides, my mom has been wanting to see you again."
Kaylee glanced to Ryan, then quickly averted her gaze, her cheeks turning pink. She was the only human Tiffany knew of outside of the mates that knew about shifters. Tiffany was so glad that her father had allowed her to tell Kaylee about them. It made being her friend easier and yet harder at the same time. While Tiffany didn't age, Kaylee did. That saddened Tiffany because if she didn't find her friend a mate, she'd have to watch Kaylee grow old, and could possibly lose her.
"Please," Tiffany asked again, batting her lashes.
Kaylee laughed. "Okay, I'll come."
"Yay!" Tiffany pulled her into a tight hug.
"Not so tight, sister bear."
Releasing Kaylee, she drew back and scanned her human friend for injuries while her heart beat wildly. "I'm so sorry."
A small, shy laugh escaped Kaylee. "No harm done." She glanced to Ryan and quickly lowered her gaze.
Curious, Tiffany cut her brother a narrowed-eyed gaze. He stared at Kaylee as if unsure; as if he were battling with his inner demons. Tiffany frowned. The latter may be the case. After all, he had tied himself to a demon to save her life.
Tiffany didn't know all the details. Ryan refused to talk about it, especially with her.
However, the more she studied him, the more she realized he was attracted to Kaylee. Hiding her smile, she focused back on her friend. "Can you help Ryan load the cake?" She turned to her brother. "Be very careful with that cake. I don't have time to make another one."