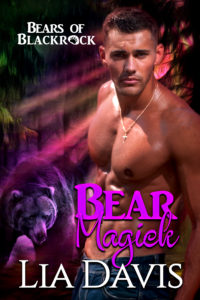 Bears of Blackrock, book 2
Available at Amazon I Apple I Kobo I Nook
Independent, curvy, and beautiful Connie Glover doesn't need a man in her life to make her happy. Or to save her. Or so she tells herself…
While out pursuing her passion for wildlife photography, she's confronted by a hunter with his sights set on dominating her. Determined to teach the human a lesson, she's a little annoyed when a sexy bear shifter shows up and chases the hunter away.
Anthony Black is the Marshal of Blackrock. His number one priority is protecting his den—and his mate. But keeping Connie safe is a challenge in itself. Not only is he unsure if she'll accept him, but the stubborn and sexy witch loves her independence. Almost as much as she loves teasing him—something that makes him mad with desire.
With new threats to the Pack rearing their ugly head, Anthony must find a way to win her heart while convincing her they're better together than apart. Because despite how hot her teasing makes him, securing her in his life and in his Pack is no laughing matter.

Excerpt:
Connie crouched low behind some brush, careful to make as little sound as she could. Early evening in the Georgia Cohutta Wilderness was the perfect time to snap a few shots of the wildlife in the area. She breathed in the cool, fall mountain air and fought back a sigh. Fall was her favorite season. Time for pumpkins, spiced hot cider, cinnamon everything, and, best of all, colder weather. 
Settling into her spot, she positioned the camera. A few yards away stood a family of deer: two fawns, a doe, and a buck. The buck, most likely the proud papa of the fawns, held his head up, watching for danger. 
The perfect picture. 
She removed the lens cap from her Nikon and snapped a few shots. Papa deer rotated his head in her direction but didn't indicate he was about to run. Good. The setting sun bathed the mountainside in a hue of peach, adding to the perfection of the scene in front of her. 
Her thrill of the moment faded as the hairs on the back of her neck stood on end and her skin tingled. Crap. She didn't need the bears snooping around. They always scared the wildlife away. Oh well, it was time to pack up her camera and head to Blackrock—the bear-shifter clan who lived in the area. 
A few weeks before, her best friend had mated the youngest son of the Alpha. Connie couldn't be happier for Nichole. Trey treated her like a goddess, always pampering her. It was both great and sad at the same time. Well, the couple wasn't sad; Connie was. A little. 
Seeing them so happily in love and planning their future had started her own biological clock. If only she could find a man who loved her—her snarkiness and her curves. Unfortunately, it appeared no such male existed. He'd love one or the other of those things, or none at all. Her last boyfriend had thought he could change her. 
She snorted. Connie changed for no one. 
She didn't need a man anyway. Besides, the wham-bam-don't-call-me-I'll-call-you worked for her. No strings attached. No broken heart. 
After placing her camera in its bag, she stood and froze at a schklikt sounded from behind her. A gun being racked. Cold fear sliced into her chest. Damn. Where's that bear when you need him?