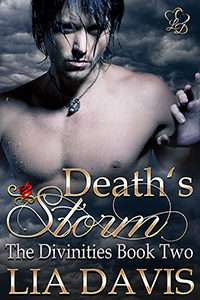 The Divinities, Book 2
Available at Amazon I Apple I Google I Kobo I Nook 
Read on Kindle Unlimited
Also available in Paperback at Amazon I Nook 
Technical genius and demi-goddess—a.k.a Divinity—Khloe Bradenton relies on no one for help, and she definitely doesn't need comfort from anyone but her twin. After her parents were killed by the demons over two years ago, she graciously accepts her role in the war between the demons and witches. But when a creature far more dangerous than the ones responsible for killing her parents claims he is her guardian and steps in with help she never asked for, she is torn between her desire for the dark predator and memories of the painful loss she endured at the hands of her enemies and from those who claimed to love her in the past.
One of the last Death Demons still in existence, Jagger has pledged his life to the Goddess of Witchcraft, Hecate. Charged with guardianship of the Divinities—one particular spitfire, in particular—he was told never to approach them, but simply to aid from a distance. But when Khloe sacrifices herself to save her twin and best friend and thus becomes the demons' prey, Jagger has no choice but to reveal himself to her. However, he is taken by surprise when the desire to claim her as his own emerges, and his need for her burns hotter than her Fire. But in the midst of the war, their feelings for each other could prove more dangerous than the demons out to destroy them.

Excerpt:
Jagger tossed the Amiddian to the side, stepped away from the overturned van, and froze. Khloe stood on the shoulder of the road about fifteen feet ahead, and watched him. Her pink-streaked blond hair framed her oval face, making her look like a pissed off angel. He took a step forward and felt the presence of another demon. He turned to the new energy to see a horned, blue-skinned demon advancing toward Khloe.
Fuck. Where were they coming from?
Letting out a low growl, Jagger materialized in front of the demon and grabbed him by the front of his shirt. Holding the hell-spawn off the ground, Jagger let his fangs drop. "What do you want with her?"
The demon narrowed his eyes and smirked, but said nothing.
Tightening his grip, Jagger gave the demon one more chance. "You can tell me, or I'll drain the memories from your useless soul."
The idiot laughed and vanished.
Fuck! No one should have been able to flash from his hold. He surrounded them with a spell for just that reason. There was only one possibility. Khan had a power source just like Jagger suspected.
Fisting his hands to his side, he whirled around to find Khloe gone. Great. Another complication. Scenting the air, he picked up on her chocolate-rose fragrance and rushed into the forest. Several feet into the trees and brush, he found her.
She wasn't alone. A Regal—the imperial guards of Khan and the most powerful demons in the Underworld—stood over her, with his hand gripping her arm.
Rage ran in Jagger's veins, fueling his need to protect her and kill for her.
He soon discovered his Khloe was a fireball. She kicked the Regal in the balls, taking the demon to the ground. Turning on her heels, she took off again, but not before he caught the scent of blood.
A deep growl ripped from his throat, and he thrust his hand toward the male struggling to stand, hitting him with a ball of fire. The demon puffed into a black pile of dust.
No one harmed what belonged to him and lived.