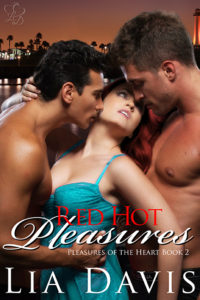 Pleasures of the Heart, book 2
Available at Amazon I Apple I Kobo I Nook 
Business lawyer, Tessa Barnes, has given up on finding Mr. Right. She's in her mid-thirties and married to her career. Until the tall, tan, and rugged Hunter Reeves walks in and jumpstarts her biological clock, making her want more. But just when she comes to terms with dating again, her best friend—and crush—from high school, Jake Braxton, makes a surprise visit to tell her he's moving back to Long Beach and wants to be more than just friends. Making her virtually non-existent love life now incredibly complicated.
But the men are perfect: sexy, sweet…and Tessa knows they could both capture her heart. When they reveal they want a ménage a trois, things heat up, and Tessa gives in to her desires. But could one night of passion turn into a lifetime of pleasure? Or will she be forced to make the hardest choice of her life?

Excerpt:
Breathe, Tessa. It wasn't like her to be nervous around people. Sure, she was the quiet twin, the more reserved sister, but she was also an adult and liked to have fun. When it came to men, she enjoyed flirting as much as any red-blooded woman.
Yet, Hunter was different. Everything about him set her on edge and made her want to run.
"Are you okay?" he asked while opening the door to his Toyota Tundra.
Nodding, she hopped in. "Yes, just a little tired."
Relief washed away some of the tension when he seemed to accept her excuse and closed the door. Avery was going to laugh at her for weeks for how badly she let Hunter unnerve her.
The ten-minute drive to her oceanfront condo was quiet and seemed much longer than it really was. Hunter pulled to a stop at the front of the building. "I look forward to your call tomorrow."
She glanced at him, forgetting for a moment about the remodel. "Oh, yes. I'll call as soon as Cole and Kenton look at the plans."
A spark flashed in his eyes before the grey darkened slightly. He cupped her cheek, the warmth of his palm seeping into her flesh. She sucked in a breath as he leaned forward. Dizzying need pulsed within her. She should exit the truck. Kissing him would not be a good thing…
Once his lips pressed to hers, all reason dissipated. His soft, demanding mouth moved to allow his tongue to slip through the seam of her lips. Hot desire consumed her as their tongues met and tangled together.
She wrapped her arms around his neck, tugging him closer. Her pussy pulsed, aching for his touch.
Much too soon, he broke the kiss and rested his forehead against hers. "I want to see you again. Outside of work. Take you on a real date."
Her breaths were fast, and she tried to calm the rush in her veins. Yet all she could manage to say was, "Yes."
Any man who could kiss like that was worth pursuing—or getting pursued by.
He drew away and squeezed her hand. "I'll pick you up Friday at the office?"
"No, meet me here at seven."
He smiled and lifted her knuckles to his mouth and placed a kiss on them. "I look forward to it."
"Me, too. Good night, Hunter."
"Night, Tessa."
She slid out of the truck and made her way to her penthouse, her head still buzzing as she exited the elevator to her private foyer.
Oh, God. She had a date. With Hunter, the sex god.