Happy Re-Release day to the Milly Taiden shared world authors!
When Amazon announced they were closing Kindle Worlds, Milly Taiden and her amazing team came up with a plan for her series. To re-publish the books that came down on Monday and continue to publish the shared world stories in the Sassy Mates and PDA series.
The best thing about this is my international readers can buy them! The re-released books started going live this week and I think all 65 of them should be available today. (be patient if they are not. There are 65 of them and it takes time to get them all up). 😀
If you haven't had a chance to read HEXED WITH SASS and/or CLAIMING HER DRAGONS. Now is your chance!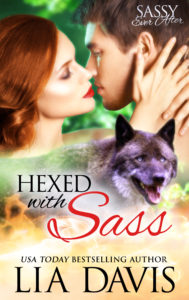 Hexed with Sass
A Sassy Ever After story
Get it on Amazon
Also available in Kindle Unlimited!
After losing her mother to an unexpected illness, and unable to locate a sister who is MIA, Pepper has to come to terms with being alone for the first in her life. She refuses to sit still and feel sorry for herself. Reviving her herb garden becomes her first project and she conjures a potion to help it flourish. As she performs the spell, a silver wolf stumbles into her backyard, his focus on her. Knocking the magical potion from her grasp, he shifts into a hot and very naked man.
Wes Nash never expected to scent his mate while on a run. Seeing her in the flesh, tending to her garden by moonlight, is too much for him to deny. Little does he know the witch accidentally puts a hex on him, and not just his heart. Now, everything he touches sprouts leaves and flowers. But the screwed-up version of a green thumb is the least of their worries.
Pepper discovers a secret her mother didn't get a chance to share before she died, and now the father she thought was dead comes back with dark plans of his own.
---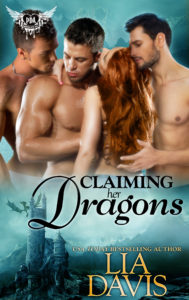 Claiming Her Dragons
A Paranormal Dating Agency story
Genre: dragon shifters, reverse harem
Get it on Amazon
Also Available in Kindle Unlimited!
Be careful what you ask for…
The beautiful, curvy Jackie Olsen has a sex drive in hyperdrive. Her last boyfriend broke it off saying she was too exhausting for him. Without much hope for finding what she needs in the human gene pool, she turns to Gerri Wilder for help, hoping a shifter, or two could keep up with her desires.
Jackie just isn't prepared to go on a date with not one, but three hot dragon shifters.
CLICK HERE for more on the Sass Ever After and PDA world series